InStyle
has capitalized on their fabulous connections to explore the possibilities of Bella's wedding dress in the upcoming filming of
Eclipse
, the third installment of the
Twilight
saga. I will say that I have read the famous
{or infamous}
series, but I have little interest in the movies, especially after the dreadful first attempt with
Twilight
! So I bring this little post to you, not with excitement for it being Bella's dress, but simply because I love love love looking at design sketches!! Here's a snippet that gives you and the designers a little insight into the dress inspiration:
In Eclipse, Bella's dress is described as an early 1900s design (which complements her antique engagement ring) with friend and Maid of Honor Alice Cullen's modern tweaks to the train and veil. "You look like you just stepped out of an Austen movie," Bella's mother says to the bride-to-be when she spies her in the gown in the final book, Breaking Dawn. "It's gorgeous! So graceful, so elegant."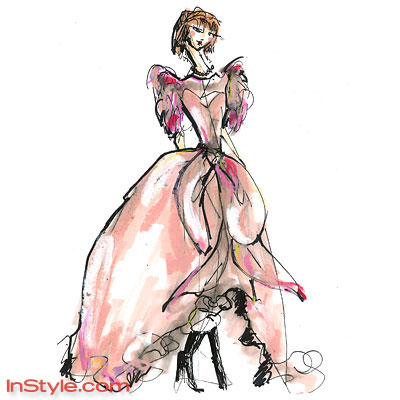 Zac Posen's corseted statement
-- over the top and fabulous!
Which are your favorites? I'm drawn to all things vintage with a modern twist, so my top three are Lela Rose, Prabal Arung, and Monique Lhuillier, respectively. They're all so beautiful and inspiring... Bella would be a lucky lady in any one of these!